Jonathan Goldman's Healing Sounds

Created by Jonathan Goldman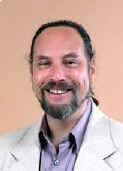 Category (s)
Original System
Ancestral/Ethnic practices or techniques

Sound sources used (General category)
Voice
Specific Soundsource (s)
Voice

Description of System:
Utilization of the voice as a tool for transformation and change using self created sounds to create resonance in the physical, emotional, mental and etheric bodies. Focuses on the combination of vocal harmonics and other sacred sounds including vowel sounds and mantras for this. This is one method, used primarily on self. Another method is the Overtoning technique in which sacred sound is projected to someone else.

Diagnosis
We work primarily with the voice using this method. With the first, resonance in the body, brain and etheric fields in actually felt through self created sounds. In the second, a siren like sound is used to scan the various bodies. From this, a specific harmonic is generated as the result of a feedback loop occuring between the sound and the body (or field it is encountering). This harmonic is utilized to determine and then resonate an imbalanced area.
Scientific Studies
None currently published
Contact info for this system
Name: Jonathan Goldman
Organization: Sound Healers Association
Address: P.O. Box 2240
City: Boulder
State: CO
ZipCode: 80306
Phone: (303) 443-8181
Fax: (303) 443-6023
Email: soundheals@aol.com
URL: www.healingsounds.com

USA (2) UK (1) Belgium (1)
Name: Jonathan Goldman
Organization: Sound Healers Association
Address: P.O. Box 2240
City: Boulder
State: CO
ZipCode: 80306
Phone: (303) 443-8181
Fax: (303) 443-6023
Email: soundheals@aol.com
URL: www.healingsounds.com
Name: Sarah-Jane McLaren Owen
Organization: POW WOW LODGE MEDICINALS
Address: Pow Wow Lodge P.O. Box 5517
City: Pine Mountain Club
State: CA
ZipCode: 93222-5517
Country: USA
Phone: (661) 242-1779
Email: sarah-jane.owen@usa.net
Name: Susan Nares
Address: Chewton Glen Farm, Walkford
City: Christchurch
State: Dorset
Postal Code: BH23 5QL
Country: England
Phone: 01425 276040
Email: susan@nares.net
Name: Josiane
Street Address: Rapaertstraat 39
City: Brugge
Zip/Postal Code: 8310
Country: Belgium
Work Phone: 0032/50/371017
FAX: 0032/50/371017
E-mail: brigidrhiannon@pandora.be
URL: www.brighinda-healingsounds.be
Registered Teachers/Schools/Centers (0)