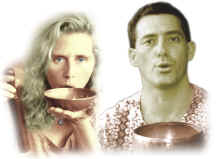 Created by Nestor Kornblum and Michêle Averard
Founding Members
Category (s)
Sound as a complement to other therapies
Sound in conjunction with other elements
Ancestral/Ethnic practices or techniques:
Original system

Sound sources used (General category)
Voice (Chant, Overtoning, Toning, etc...)
Live acoustic instruments
Tuning Forks
Bowls (Tibetan, Crystal, etc...)
Specific Soundsource (s)
Overtone Chant/Vocal Harmonics, Didgeridoo, monochord, drum, rainsticks, Tibetan singing bowls, Overtone Flutes, mouthbows, Jaw's harps, tambura, koto and more....

Description of System:
The system consists of a combination of one-to-one vibrational therapy through the use of voice and acoustic instruments, and music created by these same vocal techniques and instruments. We use sound as a holistic medicine to treat the mental, emotional, physical and spiritual aspects of individuals as well as groups.
Each individual will receive vibrational/sound therapy from the sound source which they most need at the moment of the treatment.
Treatments range from the use of Tibetan Bowls in the aura layers, chakras and physical body to tuning forks applied to the meridian points, monochord table sound massage, didgeridoo and several other acoustic instruments.
In some cases a "Sound Environment" is created using the above instruments, taking the individual or group on a "Sound Journey" Experience.
The "Sound Journey" is an extremely powerful process during which participants lie comfortably on the floor on yoga mats or similar, while the therapist/s move around the room playing a variety of acoustic instruments with voice and overtone chant. The physical body is allowed to totally relax, allowing the spirit to fly freely, accessing other states of consciousness and other dimensions. Many breakthroughs have been achieved on the mental, physical and emotional levels through these "shamanic" Sound Journeys.

Diagnosis
Diagnosis is by means of both energy reading (aural scanning), intuition, and a specific kinesiological test in some cases.
Scientific Studies
None currently published
Contact info for this system
Name: Michêle Averard and Nestor Kornblum
Organization: Ass. of Sound Therapy and Harmonic Studies
Phone: +34 96 648 2312 (Spain)
FAX: +34 96 648 2361 (Spain)
Address: ServiBox, Buzón 13 C/ Juan Carlos I, No 23, Local E
State: JALON
City: Alicante
Zip Code: 03727
Email: info@harmonicsounds.com
URL: www.harmonicsounds.com


Registered Practitioners (1)
Name: Michêle Averard and Nestor Kornblum
Organization: Ass. of Sound Therapy and Harmonic Studies
Phone: +34 96 648 2312 (Spain)
FAX: +34 96 648 2361 (Spain)
Address: ServiBox, Buzón 13 C/ Juan Carlos I, No 23, Local E
State: JALON
City: Alicante
Zip Code: 03727
Email: info@harmonicsounds.com
URL: www.harmonicsounds.com